Printing & Packaging Industry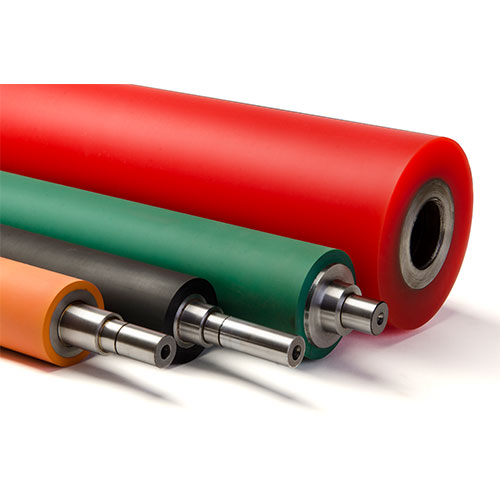 Overview
Hredaan elastomers is the leading manufacture of polyurethane rollers for printing and packaging industry. With the advantage of high durability and flexibility, polyurethane rollers are adopted worldwide for below applications
1) Sheet Fed Offset :
Inking Rollers and Alcohol Dampening form Rollers. Hardness 25° -30° shore A.
2) Tin Printing Industry: PU Rollers are specially used for Coating application for Overcoats / UV Coating etc. These rollers are available in hardness: 45°-55°Shore A.
3) Slitting Machine: PU Rollers possessing High Abrasion Properties, enable it to become 1st Choice for all Slitting Machine Manufacture and end User. They use this a Lay On Roller with hardness: 50°-65° Shore A.
4) UV Coating: UV Coating Application which reflects the Product Looks and longitivity.
So in order to maintain the high Product Quality, right type of Roller should be opted.
PU Rollers being resistance to all UV Inks and Coating, help to maintain Product quality.
Rollers are available in hardness: 30°-60° Shore A.
5) Embossing Machine: Counter Pressure roller for Embossing Machine is very critical Rollers for Embossing machine application.
As it has a lot of Pressure and Temperature. Our roller can resist temperature upto 150 C and Is available in hardness of 90°-95° Shore A.
Our professional team applies suitable solutions as per customer requirement for particular application.Ideal material is selected for top performance in screen-printing and packaging industries. The hardness range from 20A to 90A. The outstanding material properties of Polyurethane allow economical use of printing machines.