Glass Industry
Polyurethane Feed Rollers / Polyurethane Idler Rollers

---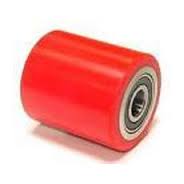 Overview
Hredaan Elastomers manufactures highly reliable and sturdy PU Rollers & for glass industry, which has high Speed and Load Bearing Capacity. These are used in all types of Conveyor, Washing and Coating application line in Manufacturing Glass.
Features of Rollers for Glass Industry
High Load Bearing Capacity
High Wear and Tear Resistance
Very Low maintenance
Resistance to Oil/ Water/ Paints
Good Re-bounce Properties
All rollers are engineered in our " In House facility" with Customer Specifications. Each and every Roller is thoroughly checked before dispatch, so that the product is of High Quality Standard.