Overview
Hredaan Elastomers was established by Mrs. Pallavi Chhabra Adlakha in the Industrial hub of Gurugram in 2015, with the guidance of her father Mr.L.N.Chhabra having 35 year of experience presently running Vintex Rubber Industries www.vintexrollers.com
Hredaan Elastomers gradually progressed into finest manufacturer and supplier of polyurethane products across India. With advanced management, latest technology, excellent research & development team, we progressed as a proficient group that has complete product chain specialised in polyurethane products.
The quality is the most important benchmark of our company. To maintain our quality standards, our skilled professionals test the product under multiple parameters. Our dedicated team use suitable polymers as per customer requirement for particular application.
Polyurethane being a versatile material counter weighs other materials because of its outstanding physical properties, high performance, and easy installation.
Polyurethane products are widely used for its flexibility, durability and high load bearing capacity, high resistance to abrasion, weather, oil, grease, temperature and high wear and tear strength. These properties allow urethane cast elastomers to be tailor made for use in some of the most demanding industries and markets.
Polyurethane products are known for its excellent productive performance among our customers of Various Industries like Steel, Textile, Mining, Printing, Packaging, Material handling, Automotive, Engineering, Glass, Cement, Sports and Leisure Industry. Focusing on polyurethane elastomer, we will continue meeting the future demands of various industries with products at the forefront of technology.
Advantages of Polyurethane?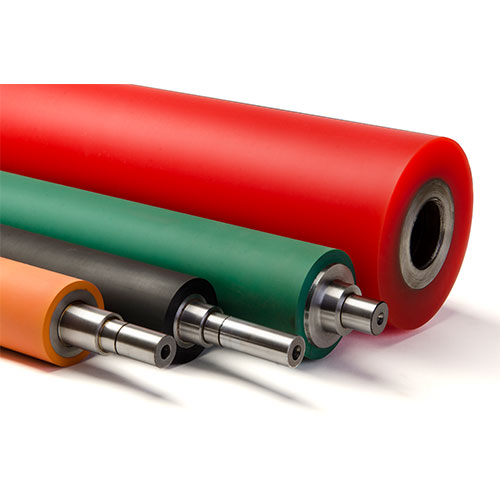 ---
Polyurethane offers extensive range of properties that can be applied to end number of applications. It is known for its versatility and can be vigorously used for its properties.
Superior to Rubber, Plastic & Metals
Very Durable & increases productivity
Highly Flexible & easily moldable
Extreme Load Bearing Capacity (in both tension & compression)
High Abrasive, Cut & Tear Strength With Excellent Tensile Properties
Impact Resistant
Resistance to Oil, Water, Grease, Chemicals & Solvents
Corrosion Resistance
Low temperature resistance
Outstanding Radiation & Ozone resistance
Strong bonding properties with steel, stainless, aluminum and plastic composites