Rollers are broadly utilized for different purposes in numerous industries, and it is essential to know about the rollers you need before making a purchase. Standard rollers will just touch the materials, while PU Roller for Conveyors is for conveyor applications. No matter what industry, you need to have the best rollers for impeccable productivity. The materials used to make rollers are also important to evaluate as they exude several features. There are three types of materials Urethane, metallic, and resin, widely used to manufacture rollers.
Rollers made of Metal
The rollers incorporate exceptional physical properties, and they are exclusively used to move heavy loads. The metallic rollers have been used in a few industries, but it is not as popular as Polyurethane.
Urethane rollers
Generally, these roller types are utilized in applications that require huge contact and better friction resistance. They are also utilized in delicate manufacturing, like the printing and packaging industry. These are the sectors where the Polyurethane roller is used to process delicate substrates like paper, textile, or sheet for processing. This is how the Polyurethane roller is used. They are also used in the sheet metal industry, where low gauge sheets are gathered as huge rolls.
Resin rollers
Resin rollers are very similar to Polyurethane rollers, and manufacturers will also employ resins to utilize in various applications.
Polyurethane rollers in the printing and packaging industry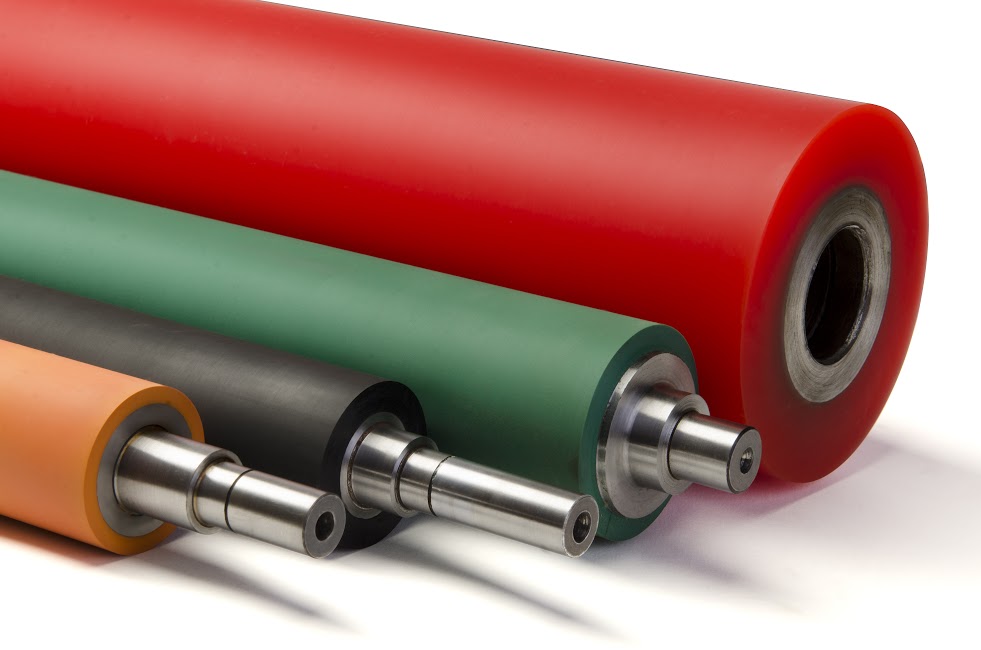 This is one industry where the PU rollers are predominantly used to resist heat in an effective manner. The rollers are used in printing, and it helps to employ the equipment on curved substrate ink application.
Polyurethane and Urethane are different, but these names refer to the same material in real-time, especially when you are talking about elastomer sleeves. With powerful properties and extensive elasticity, the material is durable when employed as a roller. The rollers are used as PU Rollers for Conveyors, printers, medical devices, and many types of equipment in diverse verticals. Polyurethane is considered a better alternative to rubber. The exquisite characteristics of Polyurethane and it's cost makes it unparalleled in any industry.
Being an elastomer, Polyurethane can be made into any shape by using compression or injection molding methods. Polyurethane is melted above its melting point and mold into the shape required. After achieving the desired shape, it is cooled by direct contact with air. After the cooling process, the polyurethane roller is ready to use. Extrusion is very similar to molding, but it is utilized only to develop products incessantly rather than in batches.
When executing the extrusion process, Polyurethane is heated and pushed into the extrusion die, taking the perfect shape. In this way, the best Polyurethane roller is made. The materials resist friction, which makes them reliable, and Polyurethane roller manufacturers consider Polyurethane a better replacement for other materials.
Conclusion
You would have understood how Polyurethane roller is manufactured and the different industries where the rollers are employed. Now, it is your responsibility to pick the right PU rollers that help your business.
For further queries, please free to connect with us on [email protected] or https://hredaanelastomers.com/contact-us/
https://hredaanelastomers.com/